Welcome to the official web site of the Oregon Cutting Horse Association
Please check back for NEW information.
Please keep the entire Weems family in your thoughts and prayers. 
John Scott Weems, DVM


June 27, 1957 – October 14, 2016
John Scott Weems, DVM. "Scott" died peacefully in his home, surrounded by his wife and children on Oct 14, 2016, at the age of 59. Scott is survived by his wife, Wendy Weems, children Jardon and Brenna Weems, mother, Mary "Penny" DeShazo Weems, favorite sister Marian L'Huillier (daughters, Laura and Erin), and favorite sister Carol Weems Lind (Dan). He was proceeded in death by his father Jardon "Jay" Newman Weems.
Scott was born June 27th, 1957 in El Paso, TX. He graduated from Burges High School in 1975. He attended Texas A&M University, graduating in 1981 from the college of Veterinary Medicine.
Scott first began practicing veterinary medicine in Las Vegas, NM. Moving on to Colorado and eventually opening Weems & Stephens Equine Hospital in 1984 in Aubrey, TX.
While attending a veterinary meeting in Oregon, he discovered the city of Sisters. He then decided to move his family here in 2006. Before setting up practice in Sisters he took a temporary breeding season job in New Zealand. Scott Weems, DVM Equine Medicine and Surgery began offering ambulatory service through central Oregon in the spring 2007. The practice quickly grew into Sisters Equine, opening the clinic doors in the fall of 2013. Knowing his career choice from the young age of 6, Scott was often heard saying he wished he was just graduating college so he could do it all again.
In addition to his passion for veterinary medicine he was also an active member of the aviation community, flying into the back country of Idaho or just around his home on a beautiful morning. Scott also enjoyed riding cutting horses, fly fishing and hunting.
He was a loving father and husband. His face would light up with just the mention of his children, always striving to instill honesty and integrity in their lives the same way his father did with him.
If you knew Scott, you knew Wendy was the love of his life. They would often be seen together dancing at local festivals, supporting the children at school events and volunteering for the Sisters Rodeo Association. They were always together.
Scott was an active and dedicated member of Shiloh Ranch Cowboy Church and their 10:17 cattle project was near and dear to his heart. The family would like to thank all of the people who have shown love and support during this difficult time.
A Celebration of Life is scheduled at 2pm on Oct 30th, 2016 at 15699 SW Bussett Rd., Powell Butte, OR 97753. All are welcome to attend and celebrate Scott's life.
In lieu of flowers, please send donations to Shiloh Ranch Cowboy Church/10:17 Cattle Project-Scott Weems. P.O. Box 177, Powell Butte, OR 97753. Condolences can be sent to: Weems Family, P.O. Box 1992, Sisters, OR 97759.
---
Thank-you to all of the participants & volunteers for another successful show season. The board of directors will be working on the 2017 show season! Please continue to watch the Oregon Cutting Horse website & facebook page for details.

click for larger view
Click here to view the Northwest Regional Series Standings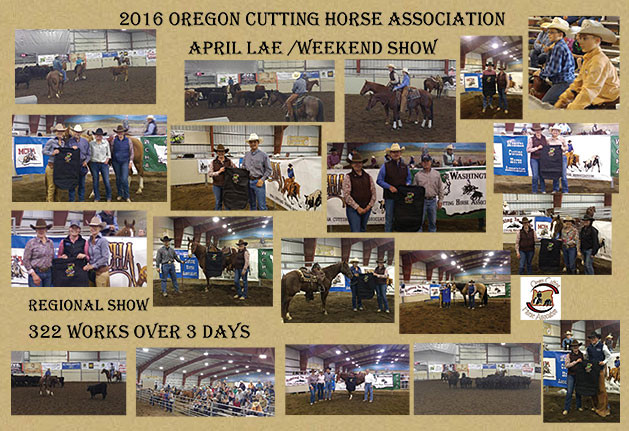 click for larger view
Hello Fellow Cutters -

Let me start off by saying "OH MY GOSH!!! It is already show season 2016!!!" Where does the time go?!?!? I hope you all wintered well and are anxious for great accomplishments this year!! Now, let me add some more excitement to what you already had planned!

Julie Clarke has been a long time supporter of cutting in Oregon. She wanted to continue her giving this year and approached me with some criteria as to how she would like her donation to be used. She wanted to do something to create excitement, generate entries and support the foundation cutters of Oregon State, namely those people with 5 day a week jobs that "live" to go to their next competition. She and I talked through some ideas and decided that supporting, encouraging, and showcasing the $35,000np and $15,000am riders would be the very best way to accomplish her wishes. We put a lot of thought into this idea and in fact structured it so that in the future it could be sponsored by another entity, hosted by another association or even showcase other classes.

The particulars are below for you to see. One note I will make - at this time the contestant will be required to pay their cattle fee but we are also looking for sponsors to have that donated as well!!! It is sure to be a very exciting event at the end of this year!! Something I think everyone one, participant or not, can look forward to!!! Please spread the word and encourage you friends to make getting to the top 3 in their associations a priority for 2016!!!
>> CLICK HERE FOR SHOOTOUT FLYER AND RULES.

Thank you!

Sarah Rubalcaba
---
2016 Show Season Updates!!

Our new Noble arena has arrived safely at Nortons arena! Thanks to Don & Pat Noble, Noble panels & Scott Tullis for the delivery! Can't wait to get it up with new ground by Arena Technologies !

Thank-You, to all the Noble Panel Sponsors!!!
Marci Aplin-Scott DMD
Jeff & Barb Boggess
Sarah Rubalcaba
The Athletic Horse, PLC - Patrick Young
Sisters Equine - Weems & Young
Kerby Training Stables - Bob & Carol Kerby
Clarence Boston/Dee Ewing
Jay & Gloria Counts
Greg & Char Cromwell
Shaliko Ranch - Steve & Tauna Stratton
Sharon Tullis Travel Agency - Scott & Sharon Tullis
The Used Cow Lot - Jack & Heidi Holt
Harvey & Lynette Doman
Ed & Dee Elkins
Ron & Tamara Farris
Jerry Louie
CCB Insurance
Rugged Enterprises - Patti Foltz
Sherman Land & Livestock - Judd & Sarah Sherman
www.stylinalittle.com - Mary Freeborn
Roger & Mary Freeborn
Miller Ranch - Dave & Lani Miller
Russ Elrod Cutting Horses - Russ & Julie Elrod
Hiner Performance Horses - Diehl & Jessica Hiner
In Memory of Bobby Kennedy
Debby's Tack & Wash Repair
Coyote Rock Ranch
Jeff, Sarah & Maddie Lillesve
Wes Smith
Ernst Ranch - Dylan & Rebekah Ernst
Dick & Peggy Otley
MT Acres - Mike & Teresa Thompson
Thereisa Hogenhout - Contractor Plan Center, Inc
Cross County Appraisal - Lou & Marcea DeGregorio
Duane & Teresa Smith
Dick Levy & Annie Coote
Cara Rose Tuggle Cutting Horses
McNair Cutting Horses - Mark & Lori McNair
Fair Feed And Supply
Prineville Veterinary Clinic
Marie Leehmann
Ron Davis
Peterson Ranch – Bob & Sue Peterson


There are still a few panels left to sponsor and I apologize in advance if I missed anyone!!
The wheels are in motion!! The new Noble Panel Show Pen and Sand will be ready for the 1st show of the season in March. Thank-you to Don & Pat Noble, Noble Panels, Arena Technologies & Tom Norton….
NEW AWARDS QUALIFICATION 11/30/15 – Awards/Qualifications show counts towards Oregon CHA yearend awards – Beginning with the 2016 point year, Regional shows produced by other organizations and held outside of the state of Oregon will not count as qualifying shows nor will monies won be eligible for tabulation for OCHA yearend awards. ... NCHA Day's will count towards Oregon CHA year-end awards…
---
Click here to read the OCHA President's Letter (updated 2/3/16)

Click here to read the NCHA Directors Report (updated 1/25/2016)
---
Our ONLINE ENTRY FORM is now available!
---
---
PLEASE NOTE:
Entry Close: If a class does not have at least 3 entries, the show secretary will contact the people entered in the class and give them until 12:00 PM the day after the entries close to fill the class or it will be cancelled for the entire show.

Entry Fees: All entry fees must be paid by the start of the 3rd class from the end of the 2nd day. This will allow the show secretaries the time needed to reconcile thier paperwork before leaving the event.
---
Help support these local clubs and get your horse ready for the 2015 season.